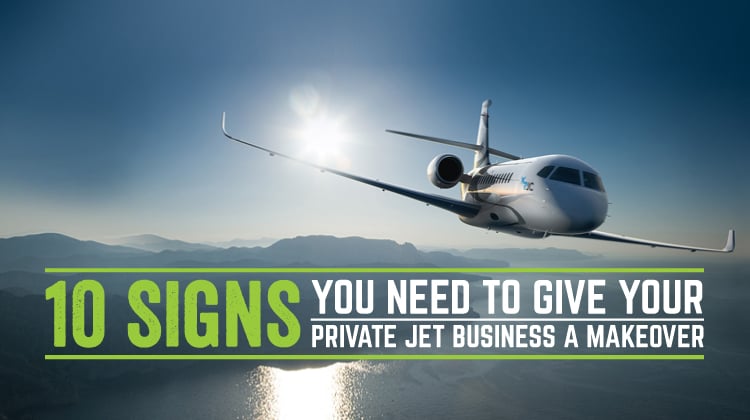 In order to stay relevant in the ever-changing field of private jet charters, you must be willing to adapt and improve your jets as time passes. After all, one of the most acclaimed and effective marketing strategies in the industry is being able to say that your jets have just been renovated and revamped to be even better than before. You could even take innovation a step further by redesigning your website, sending your staff to certification courses, and adding new jets to your fleet. While these are some of the ways to enhance your jets (and your business) once you know that they need updating, the next section will address how you know that your jet is due for a makeover.
10 indications of a necessary jet upgrade
Actively looking for and correcting the following intimations in your jets can save you money as well as help you gain positive reviews from your existing customers.
1. Frequent need for repairs: If you are requiring maintenance almost incessantly, it may be evidence that your jet needs a major restoration.
2. Increased fuel consumption: The plane's increased fuel consumption leads to an even higher out-of-pocket payment to supply its need. It's better to be proactive and give your jet some new life rather than losing money each time you have to refill the tank.
3. Time since last revamp: You need to consider the time since the last revamp or makeover. If it's been quite some time, you should consider giving your current plane a facelift.
4. Due for maintenance: If it is also due for maintenance, it can be prudent to use the opportunity to make modifications to your aircraft.
5. Extra cash: Upgrading your money-winners is never an inefficient way to spend your surplus budget. If one thing is certain about the private jet charter business, it's that you can never predict when an unfortunate incident will arrive. Putting extra money towards your jets while you have the chance may mitigate any stress of not being able to spend any money on renovations in the future.
6. Overall business revamp: If you decide to redesign your business plan, why not retouch the jets to match the new theme?
7. Believe the pros: Your pilots and engineers are paid to look after planes and jets of all varieties. Listening to their expertise on the status of your jets will be a good indicator of when it's time for a change.
8. The competition: If other competing private jet charters are having a makeover with new features that you don't have, it's paramount to effectively keep up and thrive in the business.
9. Customers suggestion: Most likely, your customers have a good grasp as to what the other competing jet charters provide on their planes. Taking their advice for enhancements could push your business over the top.
10. Alternative to new jets: If your fleet requires a new jet but the money isn't in your budget, renovating your older jets is an advantageous method to avoiding that extra cost.
Keep a lookout for these flags so that you can stay on top of your business and optimize your revenue, maintaining your success in the private jet charter industry.