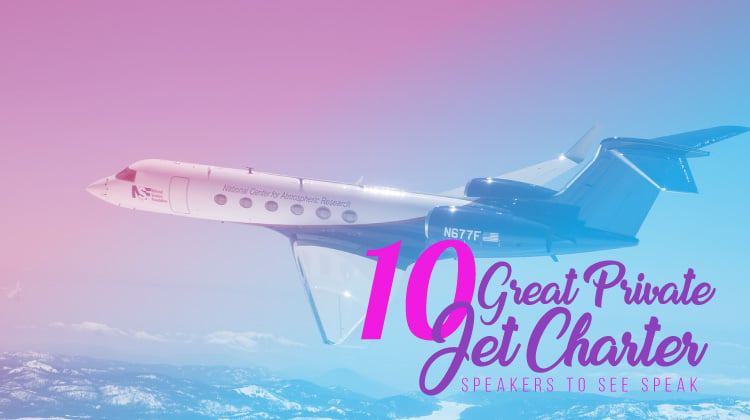 It's no surprise that among aficionados of private jets are the world's most successful and influential people – individuals who've made their mark in their respective industries and have a great deal of fascinating stories and insights to share whenever they open up to an audience. Whether they're talking about their careers or their many beliefs and advocacies – or, in the case of some, their passion for aviation – here are 10 jet charter-flying celebrities whom you would want to see speak.
Bill Gates
The Microsoft Corporation co-founder and famous philanthropist owns a Bombardier BD-700 (also known as the Global Express), one of the world's finest private luxury jets. Between his remarkable impact on the software industry as we know it, and his many important advocacies (which include clean energy, global health, and poverty alleviation), Gates' speeches share valuable insights to his audiences.
John Travolta
While it was his decades-long career in film that made him a household name, unbeknownst to many, John Travolta is also a professional pilot – and very passionate about aviation, at that. In fact, he owns five aircraft, including a Boeing 707-138 airliner (named Jett Clipper Ella, in honor of his children).
Celine Dion
The French Canadian is one of the most successful recording artists of the last century, as well as a businesswoman and philanthropist. Dion relies on her Bombardier Global 6000 – a business jet that boasts the world's fastest in-flight internet connectivity – to fly her around the world on her many successful tours.
Jay-Z
Rapper and tycoon Jay-Z is one of the most successful names to come out of the rap industry. Now that he's turned his sights to building his empire, he invests in various sectors, including music, sports, apparel, and yes, private jets; the mogul has invested his millions in two separate startups that offer private jet charter.
Donald Trump
Billionaire, real estate mogul and the President-Elect of the United States, Trump was the man of the headlines in the past year. Whether you agree with his political views or not, the tycoon's speeches are always interesting, if not peppered with controversial remarks (such as saying that the new Air Force One was a "step down … in every way" from his personal Boeing 757-200).
Oprah Winfrey
The media mogul and philanthropist is known as one of the world's most influential women and donates millions of dollars through her Foundation, Oprah's Angel Network. She owns a Gulfstream G650 private jet, one of the biggest and fastest private jets available.
Jim Carrey
Anyone who listens to his speeches is in for a dose of not only his killer wit, but also insight and inspiration (the commencement speech he gave to the students of Mariashi University in 2014 is certainly worth a listen). Carrey owns the impressive Gulfstream V.
Angelina Jolie
The Hollywood actress is well known for her humanitarian work, which includes campaigning for aid to refugees. Jolie worked as a UN Goodwill Ambassador for over a decade and in 2012 was appointed Special Envoy of the UNHCR, the organization's refugee agency. She is also a licensed pilot and owns a Cirrus SR22.
Harrison Ford
Whether you first knew him as Han Solo or Indiana Jones, Ford is undoubtedly one of Hollywood's legends. He is also passionate about aviation – he is a licensed pilot and owns an entire collection of aircraft, including a DeHavilland DHC-2 Beaver, a 1929 Waco Taperwing, and a Bell 402 Helicopter.
Tom Cruise
Top Gun star Tom Cruise is known to go flying in real life too (just not in an F-14). The Hollywood star has had a pilot's license since 1994 and owns a Gulfstream IV and a P-51 Mustang.